Steal Beauty Tricks from Angela from "The Office"

Posted by Sarah on June 23, 2009 at 05:19PM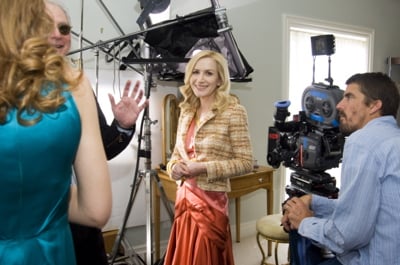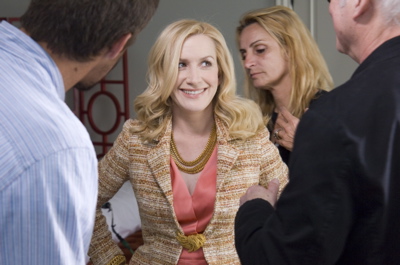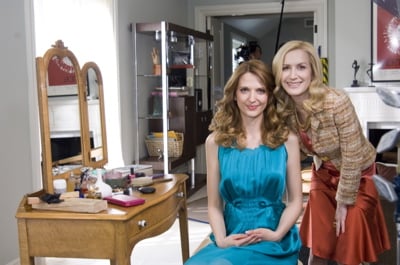 A while back, I got to sit in on a commercial shoot for Clairol Nice 'n Easy starring Angela Kinsey (she plays Angela on "The Office," my fave show, btw). If you haven't seen the ads, Angela plays Gigi, a guardian girlfriend that helps women improve their looks -- and their hair color, naturally (if you're looking for some hair color improvement, check out these expert tips). Check out our exclusive behind-the-scenes photos above.
I managed to snag Angela for a few minutes between takes, and while she wouldn't spill what happens next season on "The Office," she did share some beauty tips and her favorite products:
Angela loves Target (don't we all!). In her words, "I'm a busy woman, I have a 10-month old baby, so if I can buy [products] at Target while I'm picking up diapers, I'm a fan." Here are a few of the bargain goodies she loves:
• Olay moisturizers and cleansers, they work well for her sensitive skin.
• Pantene shampoos and leave-in conditioners work great on her color-treated hair.
• Clairol Nice 'n Easy (obviously), gives her multi-dimensional color and helps stretch out time between salon visits.
Angela and her mom are actually Clairol users from way back; she even said when she was growing up in Indonesia (her dad worked there), her mom would fill her suitcase up with a year's supply of Clairol hair color whenever she visited the states. And when Angela was breaking into acting (read: strapped for cash), she used Clairol hair color to save money.
She's a sucker for light pink lip gloss, any brand (we share this obsession). I wonder if she's tried any of these yet.
When she has a zit (yes, I asked!), she makes a paste with aspirin and water to help with inflammation -- I'm totally going to try this. (Check out other home remedies here.)
P.S. If any of you were wondering how similar Angela is to her "Office" character, I can officially say that besides the fact that both are impossibly petite and cute, the real Angela is nothing like her character. She couldn't have been friendlier. It was actually a little freaky to see her being so nice.