What You MUST Know Before Waxing at Home

Posted by Sarah on June 25, 2009 at 04:25PM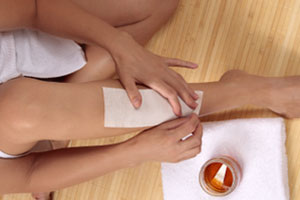 In an attempt to save some cash, I tried waxing my legs at home. I'll spare you the gory details, but basically it was a disaster (it rivaled some of these hair removal horror stories). I now realize I made two very big mistakes. One, I used one of these sub-par waxing kits. And two, I didn't know what the heck I was doing.
Now, I'm a little wiser, thanks to these at-home waxing tips. It turns out it's actually not that hard to de-fuzz on your own, you just need to know what to do -- and even more importantly, what not to do. Spare yourself the pain and ingrown hairs and check out these dos and don'ts.
• Waxing not your thing? Check out this ultimate guide to hair-free skin, you're sure to find the right method for you.
• Stubble-free skin isn't the only thing you'll need this summer. Find out what else is crucial here.
• Taking a vacation? If you're smart, it's in one of these cities.