Share! How Do You Glam Up?

Posted by Sarah on June 26, 2009 at 03:38PM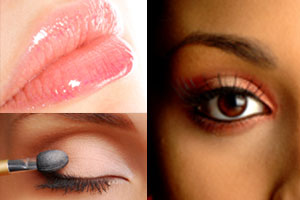 Even if you normally don't wear any makeup -- or if you can't leave the house without "putting your face on," I'm sure you have a few tricks up your sleeve to glam up your look. (And if not, then check out these tips immediately!)
We asked TotalBeauty.com readers for their fool-proof tricks to getting glam, here's what they had to say:
"I like to try different looks but I have two staple looks I always do for getting glammed up: either smoky eyes (bronze or charcoal grey) with nude lips or shimmery shadow, black liquid liner winged out, false lashes, and a bright glossy or matte lip." -- makeupjunkie13
Don't be afraid of liquid liner, this how-to video shows how easy it can be.
"I wear makeup all the time so I'm sure people don't really see much difference when I 'glam up.' I do tend to go all out on the lips though and I'm more likely to use glitter as well." -- Bianca_S
"I glam up by switching from a sheer foundation to a foundation with a bit more coverage and lip gloss to lipstick. Not a very big glam difference. If I am going to a black tie affair, I will have false lashes put on, but that's about the only difference." -- girlwomanbeautybrainsblog
Need a new foundation? Check out these reader-approved beauties.
"I use a great red lipstick and false eyelashes to glam up. That's about the only real change because I wear makeup everyday." -- kgraulty
"I'm also a fan of smoky eyes -- I like to do them in colors, instead of black or grey -- I like purples, greens, blues and browns -- accompanied by a nude lip or a glossy peach or pink lip. Or, I go for classic glam -- black liquid liner and bright red lips." -- Lifeofaladybug
Now it's your turn, how do you "glam up"?