Extreme Manicures: Nail Art

Posted by Stephanie on August 5, 2011 at 11:56AM

I'll admit it: I lust after a good manicure as much as -- okay, WAY more than -- the next girl. Every time I can scrounge up an extra $30, I head to the manicure salon for a set of fake nails. Each year, I say happy birthday to me, from me, by getting acrylic glued to my fingertips.
But before you start to think I'm crazy, hear me out. I love nail art -- so much so that I'll browse tumblr and nail art magazines religiously to see all the latest nail trends. And ever since Katy Perry tweeted a picture of her Smurfs manicure for the New York premiere of "The Smurfs," my obsession with nail art has gone to the extreme. It's all I can think about. It's all I'm lusting after.
Here are some of my favorite short but edgy designs: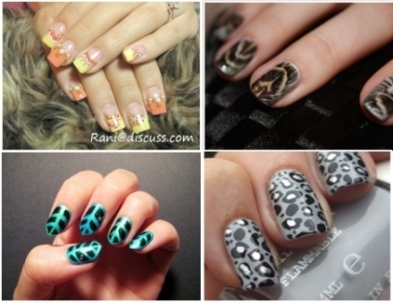 When there's a 3D element, I wonder if the details could get stuck in the keyboard:

And while these certainly put the "art" in nail art, even my response goes something like, "What?!":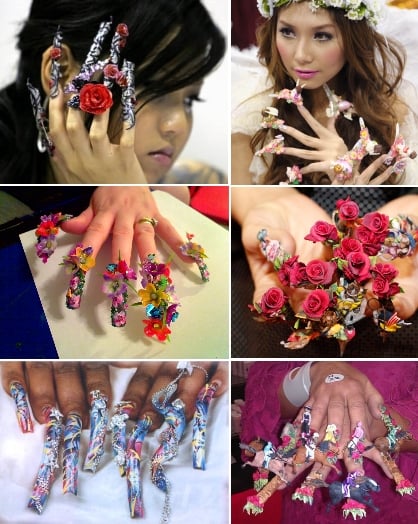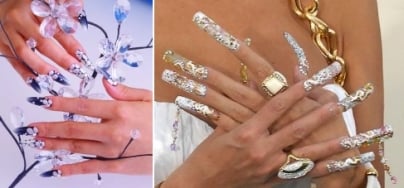 So, what do you think? Where's the line you draw when it comes to how crazy your nail art gets? Do you stick to short and minimal? Or do you rock long, high design nails like you were born that way? Here's craziest nail art I've ever done, which was for my birthday this year. And before you ask, yes, I did have trouble typing. But they were so fun and sparkly, it was worth the typos.