How to Get Hair Dye Off Skin

Posted by Kamala on July 1, 2011 at 11:07AM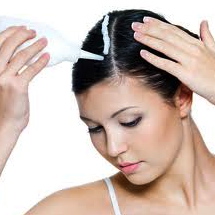 Dying your own hair is a cheaper alternative to costly salon visits -- not to mention the fact that it's more convenient, especially if you want to go from honey-blonde to espresso in under an hour. But while changing your color can be fun, the splotches on your face that make you look like a character straight out of "The Lion King" aren't such a hoot. That's why it's crucial to learn how to get hair dye off skin.
The good news is that you don't have to go out and buy any fancy products. Here's how to get hair dye off skin using stuff you've likely got laying around your house:
1. Remove the dye fast. The sooner you get the hair dye off your skin, the better. If the dye soaks into your skin, you'll have to work twice as hard to get it off.
2. Reach for vinegar, toothpaste, and hairspray. These are great home remedies for removing hair dye from skin, says Helene Sheptin, a Los Angeles-based celebrity hairstylist. These products work by sloughing off dead skin cells, allowing fresher skin to come through (similar to an exfoliant). Dip a cotton ball in any of these household items and rub against the stained area.
3. Use baby oil if it's a stubborn stain. Still can't seem to get some hair dye off your skin? Rub baby oil across the stain before you go to sleep and wash it off the following morning. The baby oil breaks down the dye, making it easier to wash off. Put a towel over your pillow so the oil doesn't stain your nice pillowcase.
And here's a (gentle) reminder: Next time you're using an at-home dye, put a layer of petroleum jelly around your hairline. It acts as a protective barrier, preventing the hair dye from staining your skin.