iPhone App Detects Skin Cancer?

Posted by Sarah on July 8, 2011 at 12:41PM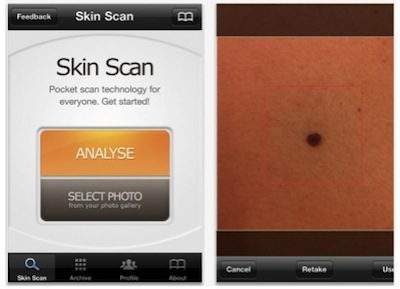 I'm pretty sure flying cars have to be next. Now that scientists have developed an iPhone app that claims it can detect skin cancer, I feel like we're truly living in the future.
The app is called Skin Scan and was developed by dermatologists and mathematicians. Basically you take a picture of any iffy-looking moles or areas of skin and the app will scan them to determine the likelihood of melanoma.
Mircea Olteanu, Ph.D., a mathematician, explains how it works: "Based on specific mathematical algorithms, Skin Scan … tells users when to [get] a professional medical investigation. Loosely speaking, Skin Scan is an automated classification tool for potentially dangerous moles."
Aside from being blown away that this is even possible, I think there are some major pros and cons to this technology:
Pros:
• Hypochondriacs (like, uh, me) can use this app instead of running to the doctor every time they notice a new freckle.
• I can use the app on anti-doctor types (like my husband) to convince them that they do need to see a dermatologist.
• Having this app might get people into the regular habit of checking their skin for new moles and skin lesions. Since early detection is a huge part of fighting skin cancer, this seems like a fantastic thing.
Cons:
• Some people might use this app as a substitute for annual mole checks with their doctor. The Skin Scan people stress that this "is not intended to be a substitute for professional medical advice," but I think many people might make it one anyway.
• If people do start skipping out on doctor checks, there's an even bigger issue. I don't know about you, but I don't have eyes in the back of my head. This means that I rarely see new moles on my back, not to mention my scalp and other random areas they can crop up. That's why it's crucial to have a professional do a head-to-toe check annually. (See what else you should be asking your derm here.)
Tell me, will you be buying this iPhone app? Or will you stick to the old fashioned method of a derm's eyeballs?