Bacne Fighting Skin Care Tips

Posted by Kristen on August 17, 2010 at 05:29PM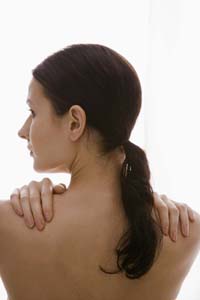 Acne is literally and figuratively a four-letter word and "bacne" (back acne) evokes that same cringe-worthy, visceral response, no? Our clothes can trap dead skin cells and sweat -- especially post-workout -- which can trigger breakouts in that hard-to-reach area. But our friend Annet King (the one who showed us how to pop a zit the right way in this how-to video ), Director of Global Education of The International Dermal Institute, has tips to help you combat bacne -- so you can wear a back-baring dress or top, without fear of having a giant whitehead on display:
Cleanse: Be sure to use a soap and fragrance-free anti-bacterial cleansing wash like Cetaphil Antibacterial Gentle Cleansing Bar, $3.99. Many people over-cleanse the skin with harsh soaps and use vigorous scrubbing tools and products. The use of Alkaline-based surfactants or soaps not only rob skin of moisture, but also provide a bacteria-loving environment. This can also exacerbate the breakouts and slow down the healing process. Have a hard time reaching your back? Use a shower pouf on a stick -- just use one that is removal so you can wash it often.
Tone: Spritz your back with an oil- and bacteria-controlling toner. Many bacne sufferers will try mentholated and alcohol astringents, which provide a cooling sensation, however in most cases these are SD alcohol-based, which strips the skin of lipids, causing the skin to over-produce oil. Look for alcohol-free toners in "smart trigger" packaging that allow for easy spritzing over your back. Before heading out to the gym, pack anti-bacterial wipes to use after you workout like Dermalogica mediBac Clearing Skin Purifying Wipes, $17.
Exfoliate gently: Many people use loofahs and brushes to try and rid the skin of back acne, which only worsens the condition. The use of such tools causes micro-lacerations in the skin, making it once again a hospitable environment for bacteria to breed and grow. A gentle fragrance-free scrub like Neutrogena Body Clear Body Scrub, $6.99 should be used instead. Lightly massage it over the area and rinse off.
Don't squeeze and pick: Seek out the help of a professional skin therapist to give you a back treatment to clear impactions, exfoliate gently and dry up the lesions with high frequency, a machine that omits an ozone gas that kills bacteria and heals pimples. Can't make it to a pro? Simply use a topical spot reducer (try Paula's Choice 1% Beta Hydroxy Acid Gel, $18.95) and apply a clay masque like Laura Mercier Deep Cleansing Clay Mask, $36 twice a week for 10-15 minutes and rinse.
And here are a few sneaky ways to prevent bacne in the first place:
1. Avoid waxy hair products that may come into contact with the skin on your back.
2. Wear cotton clothing versus synthetic fibers, which can trap oil and dead cells.
3. Pillowcases should be changed at least every other day and sheets twice a week. Avoid using fabric softeners on bed linens as they may cause a breakout.
4. Avoid tanning beds. Many believe that this will speed up the healing of breakouts; however, the effects are only temporary. UV exposure increases cell production, causing more breakouts.
• On a beauty budget? Check out the top 10 drugstore acne-fightingproducts.
• Want in on a little beauty discount secret? See how to get great deals and exclusive offers on beauty products here.
• Keep up with the latest in beauty -- follow us on Twitter, add us on YouTube and friend us on Facebook.