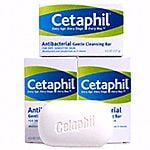 very gentle

love the scent also

A Featured Shower Regular!

My sensitive skin will let me know when a product is not being kind to it and because this actually left my skin soft and smooth, it was a good sign. First of all, this bar is pretty creamy for a solid soap so it applies almost like a body wash because it also lathers richly. When I rinse it off my skin, I feel the difference of cleanliness and moisture when my skin has dried because I see no ash...read moreiness. This also cleanses the face better than their cream or liquid cleansers. Now here's the catch, it's about three dollars a bar. It doesn't seem much but when you compare it to the prices of multiple pack shower soaps and find that this product melts and disappears easily with a few rinses of water on the bar, you'll find that you're shelling out more to have it. I still find it a benefit to have because it's gentle and effective so in the end, pulling out a couple more dollars seems worth it to hypersensitive skinned people like myself and my younger sister who has eczema. She and I have complete opposite skin types as I am oily and she's very dry yet this product works for either of us.

Not great for acne

I tried this soap when my skin freaked out and decided to become red, dry and itchy in response to all my old favorite products. I'm acne-prone, so I thought the fact that this is antibacterial would help that problem while helping my skin calm down. This soap definitely eased the irritation and softened my skin. Within 2 days, the peeling had stopped, and I thought I'd found my new favorite produ...read morect. After 2 months, however, I realized that my acne was quite a bit worse. I couldn't ignore the fact that this soap left a slight residue, no matter how long I rinsed. I've since read that bar soaps are really not the best option for acne, and I've found a good sensitive-skin cleanser that my skin can handle. This would be a good product if it weren't for the breakouts, so someone with sensitive, non-acne-prone skin should definitely try it.

Back
to top