A Plastic Surgery iPhone App? Scary but True

Posted by Sarah on January 11, 2010 at 05:37PM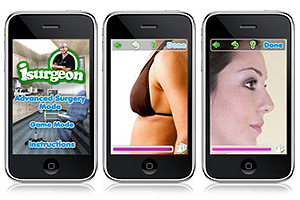 Honestly, I don't know whether to be horrified by this new iPhone App, or run out and buy an iPhone just so I can use the App. What is it? Why, it's the iSurgeon, "an innovative App … which combines personal image modification with high tech gaming features." Huh?
Basically, it does two things: One, it lets you see what you would look like with plastic surgery: a new nose, bigger boobs, even smaller ears. Two, it lets you "play plastic surgeon" and perform procedures on "patients." It even comes with "realistic sound effects." (I got a little woozy when I read that, I don't handle blood and stuff well to begin with, I don't need to hear skin being scalpeled, ewwww.)
It was created by an actual plastic surgeon, Dr. Michael Salzhauer, who's also written a children's book that explains Mommy's plastic surgery (awww, isn't that sweet?).
While it would be cool to see what I'd look like slightly modified, since I don't think I have the guts to ever do it for real, the idea of performing surgery is beyond my scope of a good time.
What do you think? Are you downloading the App as you read this? Or will your phone be a surgery-free zone?
• I wonder if these celebs would have re-thought their procedures if they had this App, hmmm …
• Not going anywhere near a scalpel? You can still transform your face with these makeup tips.