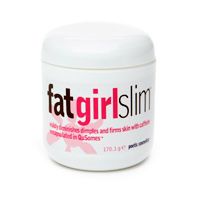 Bliss fatgirlslim Circulation Stimulating Slimming Cream
As low as
keeping my fingers crossed

I too am using this product as we speak and although I haven't noticed a big change I really do feel like it is smoothing out my skin. It feels wonderful and I thing the rubbing and massaging is helping as much as anything.

Not yet proven but still hopeful..

I saw this at Sephora and laughed my head off so I had to read the lable and saw some pretty cool claims for treatment of some of my problem areas so I bought it. I have used the product faithfully for 42 days and need to rebuy. Hmmm not sure I want to spend the $ when I have yet to see or feel results. The jar says 60 days but do I want to keep purchasing and waiting? I thinnk I will give it 1 mo...read morere jar try and see if it completes its claim to fame it will be worth it if not I am out 60 days and $60 bucks but at least I have my insider beauty rewards points.