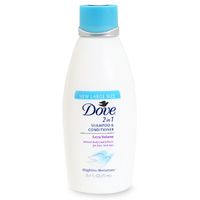 GENTLE

Gentle on hair but did not get tangles out.

Dove 2 in ! Shampoo and Conditioner

My family and I were on a cruise when we tried this product. (Samples of it in the cabins). This product proved to be extremely drying of all of our hair. This is definitely not a product for African-American hair! It was so awful. I had to seek professional help after our trip to improve the condition of my hair.

Dove 2-in-1 Shampoo

When I had very long hair, this shampoo definitely made washing my hair much easier. It lessened the time involved, since I didn't have to apply conditioner and then rinse it all again, plus it added just enough conditioner to prevent painful tangles. Now that my hair is much shorter, it adds a much needed "umph" to it. In addition, it has a pleasant scent which isn't over powering like so many newer bath and beauty products.
Back
to top