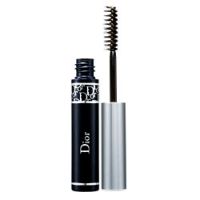 The Best Tinted Brow Gel

I have this in Shiny Brown and it works well on my dark brows. It's a tint and gel in one so it colors and holds. I wear taupe colored brow pencils so this perfectly darkens but still looks very natural, not like I'm wearing anything. I also like the short and long bristles on one brush. The brush also holds the right amount of product - most brow gels deposit too much gel and brows look very wet.

Decent

Very shiny and even sparkly. It has a tint of color to it which helps to make your brows appear fuller. Its just an average gel I think, but it does last pretty long. For this price, I would opt for something a little less expensive, plus the size of it is pretty small =(

I really like this

It works great, normally I get clear brow gel, but I like this.