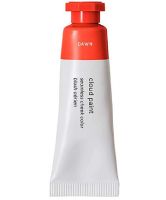 Glossier Cloud Paint
As low as
Natural, Sheer Color

A word of caution to begin: The tube is very sensitive and a little of this product goes a loooonnnng way. The first couple of times I used this blush, I accidentally squirted out way too much, which made me look more flushed than blushed. That said, once I got the hang of it, I started to really like this product. A couple of dots are all you need for a light, natural looking blush. It's very she...read moreer, but definitely buildable, if you want more color. Though I like cream blushes for days when I'm too lazy to pick up a makeup brush and use a powder, I find it's not the best for my slightly oily skin -- and this was no exception, it wore off before the end of the day.

Just-pinched cheeks

Glossier's cloud paint gives a lovely, very natural flush to the cheeks. The shades are gorgeous and the silicone-y consistency blends silkily into skin. You can definitely blend it in before it dries and the color is buildable. I find it tough to squeeze out the right amount from the tube and wish they were slightly more pigmented. But here it is eight hours after applying and my cheeks are still rosy.

So Natural

This blush is amazing! It goes on so nicely and blends into your skin like a dream. It also layers very well. It gives you a very natural looking glow. And although it does not have any shimmer, and is totally matte, it DOES make you glow. I don't know how, maybe just because the application makes it look so natural. I do not like the packaging at all. It is way too easy for too much to come out...read more of the tube. And you can't put it back, so you end up washing it down the drain. I think they could've done a lot better than that. I purchased this is Puff and Haze. The darker one was perfect for my mid dusky golden brown skin. The lighter one was perfect for my daughter who has a very light tan skin tine. I would re-purchase this, especially if they upgraded the packaging.
Back
to top