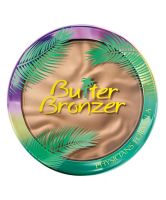 Provides a Natural-Looking All-Over Bronze

I think this is intended for contouring based on the (pretty dinky) brush included and the matte finish, but I used it for an overall bronzing effect, and I was impressed with the natural-looking all-over glow it gave me (I kept thinking, "wow, I'm tan!"). One more interesting aspect that I surprisingly do not hate: It smells like coconut. The price is another plus.

Great bronzer

I really liked this bronzer! It gave my skin a nice warm glow, applied like a dream (when I used my brush, not that stupid rubber pad it came with) and lasted all day. It's a fantastic drugstore pick.

Awesome Bronzer for Fair to Light Skin Tones

This bronzer made me understand why people bother with wearing bronzer. I used to hate how warm or neutral bronzer looked on me because it always looked splotchy or made my light skin look orange-cast. This bronzer is actually neutral and VERY sheer. This works in my favor, as I can build it up across my face and neck without going to heavy. It definitely is not shimmery, but not so matte that it...read more looks flat: it has a slight sheen to it that makes you look like you got a tan and have naturally glowy skin. I also use this now to blend out the few more intense bronzers I have to make them more natural on me. I have the lightest shade, but I wish there were more shades because even the darkest shade isn't dark enough for my medium skin toned friends I rave about this product to. As always, my draw back with Physician's Formula products is the frustrating lack of shade diversity. There are more than two skin tones!