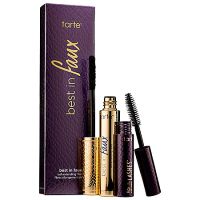 Tarte Best in Faux Lash Extending Fibers
Annoying!

I used this the first day I bought it and I was so uncomfortable! It is now rotting in my mascara drawer. I love the actual mascara which is the only reason this is even getting 3 stars, but the actual reason I bought it, (the fiber extensions) Sucks! It adds volume to my lashes making them look fuller but it is almost inevitable to get it EVERYWHERE. I hate that even though I manage to get the fi...read morebers off of my face and under my eyes, it manages to creep into my eyeballs throughout the day! It's like having tons of little tiny eyelashes in your eye throughout the whole day! >:( Love the mascara but the reason I spent $ was for the fibers! It does add volume and makes lashes look fuller but the fibers do not stay. I have tried applying every single way possible but every single time I am dissapointed. Save your money.

Tarte Best in Faux Lash Extending Fibers

Okay, so I bought these today for only $19...I thought, that's cheap, why not? I tried them and I was surprised at how much fuller my lashes looked. It was easy to apply and it didn't clump like most extending fibers. I definitely recommend to those if you looking for a quicker, easy way for fuller more volumous lashes. Great buy!
Back
to top