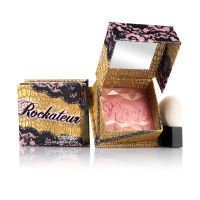 Benefit Rockateur
As low as
Color not true to pan color....

I've tried finding a dupe of this in the drugstore department but I gave up after finding nothing similar to this shimmery mauve color. I got this in the Real Cheeky set and it looks completely different than the individual standalone color. It's missing the multicolor effect. Hopefully the color is the same in both. In the pan, this looks like a dusty rose mauvey color but when I applied it to my...read more cheeks, it comes off more pink than mauve. This is not as pigmented as the Tarte blushes which isn't necessarily a bad thing since it gives such a natural flush without looking clownish. It's really hard to overdo this blush. The color is buildable and lasts a decent amount of time but not as long-lasting as the Tarte blushes. I absolutely love how easy this blends. It doesn't look like I have blush on but just melts into my skin like a real flush to my cheeks. For some reason I also like the smell of this. It doesn't smell too perfumey but kind of has a sweet floral scent to it.

Gives you a peachy glow

It came in a set. It was a great price. It stayed on all day. I gave my cheeks and face the peachy, sun kissed look. I love this product.

Obsessed! Perfect Fall Color

Okay, so I tried this at the Benefit counter in Belk. I loved it but didn't purchase because I could not see spending that much on blush... I thought I could find a similar color for less. Fast-forward, I couldn't stop thinking about it and being mournful every morning when I did my makeup so I went back and I am so glad! I love this product. I have medium skin and it gives me a beautiful glow. It stays on well, too, which is a feat for my oily skin.
Back
to top