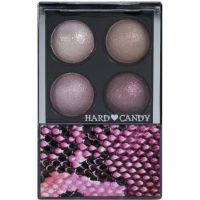 Hard Candy Mod Quad Baked Eye Shadow Palette
As low as
Very nice

I have this in the exact shade pictured and I really like it! The colors are pigmented and shimmery without being too powdery or flaky. The shades are very easy to blend and will last all day without issue over a shadow primer (haven't tried them yet without primer). I found that these colors coordinate very nicely with Urban Decay's shadow primer in the shimmery Sin shade. Even the darkest shade ...read morein this palette isn't SO dark that it's difficult to work with. Plus the compact is cute! I love that touch of purple reptile print.

WORST EYE SHADOW AND IT IS SO SAD

I remember the glory days of Hard Candy - innovative, quality products sold at high end department stores. This current (02/2014) reviewed product bears no resemblance in quality to those items. As a result of a recommendation on a beauty-oriented website, I purchased the Hard Candy Mod Quad Baked Eye Shadow Pallet in Purple. Then I tried each shade on my cleansed, primed lids and there was NO...read more (repeat NO) pigment in any of the four shades. I kept applying with a high-end natural bristle eye shadow brush and no color ever appeared, but I did get glitter particles galore over all of my face and all of the container. To gauge lasting power I kept the no-color shadows on my [cleansed,primed] lids and checked after one hour. The shadow was an oily goo piled into my lid crease. Very sad ending for a cosmetic line that used to be great.
Back
to top