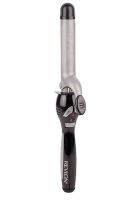 No problems

I don't curl my hair very often, so I can't attest to everyday use, but I have had this iron for over a year and never had any problems. It heats up just fine and keeps the curl.

Who needs to spend more than $20 on a curler?

I bought this on a whim when strolling through Walmart. I always wanted a change from my usually straight hair, so I got this one because it was cheap but also ceramic so it wouldn't damage my locks as much as with metal. I just wish the barrel was longer, and the clamp was designed differently because sometimes I get telltale crease on my curls. Anyways, it works splendidly without damaging my ha...read moreir. It heats up very quickly and is very easy to clean, and the swivel cord ensures it doesn't tangle up during use.

Stopped working after a week!

I started using this curling iron exactly 7 days ago, and it was trouble from the beginning. The second time I went to turn it on, I had to hit the button 3 times to get the "on" light to light up. This morning, ten minutes after turning it on, I noticed it was barely warm - not hot. So, I unplugged it, plugged it back in, and tried to turn it on again. Nothing. No matter how many times ...read moreI pushed that "on" button, the little red light would not come on. This curling iron has died after 7 days. I've used many curling irons over the years and have never had one stop working like this (usually it's the lever that gives out after over a year of daily use). Sadly, I don't have the receipt or packaging, so I had to run out and pick up a thirteen-dollar replacement - and you can bet I didn't go with Revlon.
Back
to top