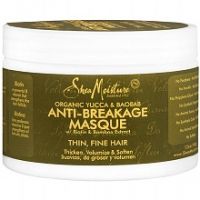 Anti-Breakage Hair Masque Yucca & Baobab

I decided to try this after I tried the original shea version-- I liked the original, but didn't love it. Still, I wanted to try out other products in this line because I like that this line leaves off lots of ingredients that can irritate skin (sulfates, synthetic dyes/fragrances, etc.), doesn't test on animals, and appears to be fair trade and I'm glad I did. I decided on this formula even thoug...read moreh my hair isn't at all fine or thin (my hair is coarse and thick) because my hair is currently bleached and dyed red, so I wanted something to help stave off breakage. This leave in works fantastically; I only need a little bit of product for my weekly leave-in treatment. It is deeply moisturizing so it does seem to lessen the amount of breakage I have and even seems to keep my hair color vibrant for a little longer. It doesn't weigh down my hair at all, which I was a bit worried about when I saw how thick this product is. It leaves my hair soft, shiny, and with less frizz but rinses clean. I find that I don't need as much product with this leave in and I find it to be more moisturizing than the orginal as well.

Ah Ha

I have long blonde hair that is fine and tangles easily. It was desperately in need of some pampering after a very stressful time in life and this stuff worked wonders. I'm still dealing with the stress but at least I'm doing right by my hair! Kick a man to the curb and start taking care of yourselves ladies!!! Start with these products...

Definitely reduces breakage

This mask is a great choice if you're experiencing breakage. My hair is heavily highlighted and even though my colorist uses Olaplex, I was still having some minor breakage that was upsetting me. I thought that using this mask might help the situation. I started using it once a week for 45 minutes or so with heat and I definitely noticed that the breakage lessened with every treatment. This ma...read moresk has a high protein content, which is good because protein fills in the empty spaces on the hair shaft, making it stronger. I continued to use this mask on a regular basis and the breakage completely stopped within a month. I was also using it for 10-15 minutes in lieu of regular conditioner on occasion and all of this really made a huge difference. I'm very pleased with the results. This mask is reasonably priced and works as well as many high end brands I've tried in the past. I like the fact that it contains natural ingredients and doesn't have a lot of the nastier chemicals so many hair products have these days. If you have fragile hair, this mask can surely make it stronger. I highly recommend it. It's made a big difference for me.
Back
to top