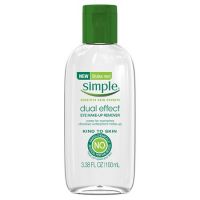 Eh...

It's very liquid, none oily, but it makes my skin feel sticky after use. I wash my face after because I just can't stand the feeling. It does a decent job of getting most of my eye makeup off. I will not be repurchasing.

Removes eye makeup naturally!

This stuff is fab. Even if it gets in your eye, it doesn't hurt. Not greasy or oily, and removes everything.

Great Economic Makeup Remover

Just purchased and I am liking the results. Was a little skeptical as to how well it was going to work ,knowing that it was alcohol free. But it has worked like a dream. I use morning and night. When I clean in the morning there is hardly anything on pad proving to me it removed everything the night before. Lastly you can not beat the price.