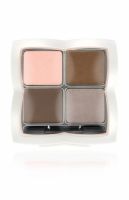 FLOWER Shadow Play Eyeshadow Quad
As low as
Not My Fave From the Line.....

I was a bit disappointed in these quads. None of the shade collections had all the colors I want in a quad and I only ended up using maybe one or 2 shades in the 2 different quads I bought (Foxy Browns and Smoke and Mirrors). I will admit that I am not a big fan of totally matte shadows or super dark shadows and these quads contain both. I had to mix them to get what I was looking for and I am ...read morenot into that as I really don't have the time. The quality is excellent, however and seems more high end. The staying power is excellent too. These might be for you, if you like the colors and textures.

My go-to shadow

I am a fan of Drew Barrymore, so it seemed a no-brainer I would check out her beauty line. I've been watching her tutorials on her Flower website & tend to try the items she demos (we have similar colouring). This quad in the Foxy Browns is in my daily routine now. I passed up the quad originally, deeming it too dark, but it's build-able colour. The pink is a nice highlight and the bronzy bro...read morewn and grey brown colours are good on the lids - depending on the look you're going for - I tend towards the grey shade mostly. The dark brown is for contouring and a little goes a long way. The kit includes a wonderful double-end brush with a wide, flat side for lids and a tapered end for highlight or on lash line. I don't care too much for glittery or overly shimmery shadows for everyday wear and these colours have just a subtle sheen to them. I now use this quad for every day for my "2 minute face". Yes, the bronzy colour can seem a bit dark, but 1 swipe of the finger on the pink shade over it and it tones the colour a bit. The shadow stays all day with or without primer (although primer keeps up the "fresh" look longer). I am sold and have filled my bag with more of Flower's bounty.
Back
to top