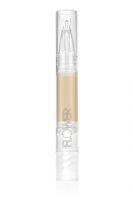 FLOWER Lighten Up! Brightening Concealer
As low as
Lovely, But Needs A Little Work

I was a little dubious about the colors the line had for this brightener (there are only four), but I'm very happy that I tried it out anyway! It has pigmentation that is very buildable, from a sheer to a light coverage without any of those "light reflecting particles" that most gimmicky brightening concealers have. I love how hydrating it is too, especially since I use it under my eyes to bri...read moreghten things up. I also use it down the bridge of my nose, on my brow bone, and other parts of my face that need a little more dimension when I contour. Everything is just so smooth and sinks into my skin like it's a moisturizer, whether I apply it underneath or over my foundation. As much as I love the feel of the formula though, I do have some complaints. I seriously wish it was more "concealer" than "brightener" (they already have the brightening part down pat!) even though that sound totally contradictory! This really doesn't conceal much of anything rather than add a lightening or glow-y effect to the area. Therefore, this can't be used on any intense dark circles or blemishes unless you want to shine a spotlight right on them! Everything dries to a nice powdery finish, but I must set with some powder anyway because it will slip somewhat on my oily skin before that point. Also, wear time is a little short at only 3 or 4 hours before disappearing and even shorter during hot days; but, the click applicator makes it easy to touch up at any time! This makes me think that those with drier or aging skin would absolutely love this concealer for it's hydrating and smooth formula. In fact, everyone should give it a try if you're looking for a subtle highlight that's brightening (yet not shimmery) and at a drugstore price!

Flower Lighten Up Concealer

This concealer is fantastic, it really adds a shine and glistening effect under your eye. Your eyes brighten up and you look youthful.
Back
to top