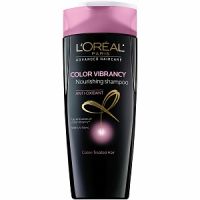 Good shampoo

This shampoo is affordable, cleanses well, and has a light fruity, floral scent. I don't believe there is any way for a shampoo to protect your hair at all-it rinses out after all. Plus, water itself fades and washes out a little color out every time so I think the claim is deceptive. It is a good, average shampoo.

Dried My Hair Out

I did not get good results with this shampoo (or Conditioner). I have color treated hair and was hoping this would be more moisturizing. Disappointed in how dry my hair was after using.

Straw-like Results

I've been using this shampoo and the coordinating conditioner for about three weeks now, every day. The shampoo feels good while you're washing, but after rinsing leaves my hair feeling thick and straw-like. The conditioner then goes on well and feels good, but after rinsing and towel drying, my hair actually squeaks while I'll comb it out! After blow-drying my straight, fine hair looks frizzy and dull. I won't be purchasing this product again or recommending it to anyone.
Back
to top