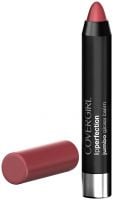 Another one of Covergirl's Lipslicks Lipgloss tubes.....

But just different crayon-looking packaging. For me, this product was not original at all. It's like Covergirl took the same formula from their Lipslicks Lipgloss and just made a different packaging out of it claiming it's "NEW." The product I find was exactly the same as Covergirl's Lipslicks Lipgloss. It had the same gritty texture, even the smell was the same but I got this in Cocoa Twist and I...read more noticed they added a subtle hint of chocolate scent to this. That's it! The color is nicer than the Lipslicks Lipgloss collection and the variety of colors are more but texturewise and smellwise, it's still the same unoriginal product. I admit the color does last quite some time and a little bit moisturizing but not a whole lot hydrating like balms so to call this a balm was quite deceiving. I think it's actually more of a sheer (although not all the way sheer) lipstick with gold glitter particles.

Nice colors!

I love these kind of balms because of the shape, they look like big crayons that you paint your lips with. I like how they twist up and you don't have to sharpen them. I have 2 of these, one is Mauve twist and the other is Rose twist. They both look great, especially the Mauve one. I have a problem finding good colors for me, I have fair skin and pale lips so everything always appears very ...read morepigmented on me. So I have to be careful with the colors I get because a lot of times they come out too bright or too dark on me and personally don't like very bright or dark colors. I was actually very content with these colors, they both looked as I hoped they would on me. For someone who likes brighter colors, this may not be for you. But for me they are perfect, they offer a nice amount of color and shine but nothing too dramatic. They go on smoothly and they last pretty long. They are not as long lasting as the Revlon balm stains, but they do last a few hours. They don't really have a certain smell or taste they actually smell and taste like a lipstick would, except they are not as drying as lipstick. Overall I really like these, the quality is great, they are not expensive, and I am very happy with the colors.

My lips but better (and trendier!)

I recently got a Clinique chubby stick intense which I like a great deal, and recognizing this as the affordable drug store competitor to the Clinique chubby stick line, decided to give it a try. After trying two colors, first Plum and then Haute Pink, I've decided this is a nearly-perfect lip product for me, and my new staple. My experience with both colors is that they have a terrific color pay...read more off while still remaining sheer enough that I can wear brighter colors without overwhelming my cool complexion. They also have very good moisture and a soft shine, although -- and this is why I subtracted one point -- the colors last longer than the moisture. In that way, they're a little more like a lip stain. I find myself applying clear lip balm to restore moisture, while the color is still going strong. If the moisture could last as long as the color, I'd give this a 10. (Note: I have the same issue with its Clinique counterpart as far as the moisture running out before the color, and needing to use lip balm.) I first tried the Plum, which is the darkest shade. It was a bit of a risk, since I am very fair. I applied it as I would any lip balm -- that is, generously. I discovered that while it retained the same hue on my lips, it was a few shades lighter than in the tube -- closer to a deep, juicy berry, which was very flattering and fun. Next, I tried the Haute Pink. The first time I applied it as I had the Plum, assuming that it would also look several shades lighter on my lips. I was initially dismayed that it didn't lighten as much, and went on pretty much a strong hot pink, which overpowered my face. The next day, I had the idea to apply a clear lip balm first, and then lightly apply a small amount of the Haute Pink in the center of my lips, and blend it in. Bingo! I instantly had on-trend pastel pink lips that still looked very natural and brightened my face. My lips, but trendier! Once caveat is that I've only tried two of the brightest shades. I can't speak to how the softer shades, such as Ballet and Blush, would work. By shopping at discount stores and using a coupon I got the two of these for less than $12 combined, compared to $16 for one Clinique chubby stick. I think that's a terrific deal. I look forward to buying more shades; next I plan to try the Scarlet.
Back
to top