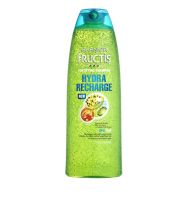 Pretty awesome!

I also was lucky enough to try the Hydra Recharge shampoo from BzzAgent, yay! I usually prefer shampoos without sulfates, so my first choices are not usually store brands because they contain sulfates and sodium chloride. So I tried this shampoo with low expectations and I was pleasantly surprised. First of all I love the fruity smell, kind of like kiwi. It is so yummy. Second, it really does not ...read moreleave the hair stiff or dry like other shampoos. It leaves the hair clean and feeling soft when it dries. The little micro beads are interesting for a shampoo, I had never seen anything like it in a shampoo. The price is also really affordable. The shampoo is not super amazing if only used alone, but the whole Hydra Recharge line used together is. I like it a lot and will be using again for sure when this one is over, this is a great Fructis product!

Off putting at first but LOVE it

When I washed it out it made my hair feel weird and hard (like with cheap shampoo) but it did make it softer, shiny, and smell nice. Also the smell isn't overpowering like somethings i have tried.

Yeah, I don't like it too much

For a name like "hydra-recharge", it should make my hair feel moisturized. But with the bottle almost empty, my hair actually feels dryer than it did with my last shampoo (Pantene Aqua Light). I don't know, when I let my hair dry in a braid it is as soft as usual, but if I just let it dry loose overnight my hair feels dry and not very nice. Although, it could be the fact that I need a haircut, but...read more it doesn't make sense because my ends are the driest part, even after using his whole bottle. Either way, I'll be trying something new next!
Back
to top