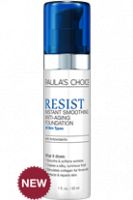 Paula's Choice RESIST Instant Smoothing Anti-Aging Foundation
As low as
Application and Coverage are Heavy and Uneven

Paula's Choice offers a wide range of products which generally work. I like the fact that Paula outlines exactly what is in each product; you pretty much have an idea what to expect before you try it. They are not overpriced (for the most part), nor do they rely on glitzy containers to prove their worth. I bought her "Resist Instant Smoothing Anti-Aging Foundation" and was surprisingly and deep...read morely disappointed. The shade choices are great, with something for nearly everyone as long as your skin doesn't fall beyond the "medium" range (they should have shades for women of color). Application was another story. I have good skin and found that it "dragged" over even the lightest moisturizer. I used a foundation brush, my fingers, and a sponge, but application was still very difficult. Once on, coverage is uneven. My pores (normally not very noticeable) were highlighted with this product, not diminished nor disguised! The cream seemed to get caught in the tiniest lines and wrinkles which are generally not visible. Moreover, it began it wear off not long after I applied it. I worked with it as long as I could--after all, this is from Paula's Choice, and I like her products. But this was definitely a no-go. I wound up washing my face and turning to my go-to foundation, Lancôme's "Dual Finish Versatile Power Foundation."

Disappointing

I'm a big fan of Paula's Choice products, but this one is a huge disappointment for me. Doesn't last, doesn't cover anything, leaves a greasy film on my face, not for my oily skin at all! Maybe it suits you if you have dry/very dry skin.

Great Colors, Beautiful Finish

This foundation has almost everything you could ask for -- the colors are realistic (not orange or too pink like a lot of foundations), it has anti-aging ingredients, it covers well but doesn't look heavy, and the finish is beatiful. The only negative thing I can say about this product is that it just doesn't last. I don't have oily skin at all, and by lunch time it just seems to have disappeared ...read moreoff of my face. I really wish it lasted longer, because other than that, I like it better than just about any other foundation I've used.