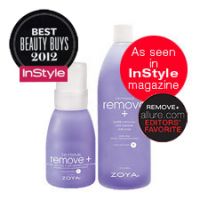 Zoya Remove Plus Nail Polish Remover
As low as
Extra Nice Polish Remover

I received a small bottle of this with a Zoya polish order and was really impressed when I tried it out. I had seen good reviews for it but gawked at the $10 price tag, considering I can get a much larger generic bottle for $5 or less. But the Zoya nail polish remover really is different. The smell is a lot less harsh than other removers (something my boyfriend really appreciates!). This also ...read moreseemed to take off pesky polishes more swiftly than others. I usually just use pure acetone to remove my polishes because it works the best, but it leaves my cuticles and hands super dry and tight. Zoya's remover has acetone in it, which is probably part of what makes it remove polish so easily, but it is not nearly as harsh or drying to my nails and hands as the pure acetone. Still, $10 for an 8 ounce bottle of nail polish remover is steep! While I think this price is somewhat justified, it would nice to at least get a bit more product. However, I do plan to buy a full size bottle. The full size packaging is nice, with the pump dispenser too. I will just save this for when I am doing nails in the man's presence or when my nails need a break from the harsh acetone.

Pros and Cons

This nail polish remover has been great. As said in other reviews, it does remove nail polish a lot quicker than your typical remover from the drugstores. It seems to leave your hands and nails a lot less dry than others would, and the smell is bearable compared to others. I bought mine at a nail polish discount store for 7 or 8 dollars, which is still pricey compared to the 3-5 dollar range of n...read moreail polish removers you can find anywhere. I'm not sure I would pay the full price for this, but as long as my discount store continues to carry it, I think I will keep buying it.
Back
to top