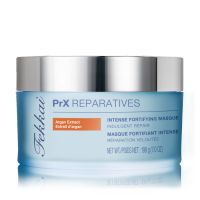 Fekkai PrX Reparatives Intensive Fortifying Masque
As low as
Frizz Free Soft Silky Hair

This is a thick and creamy treatment with powerful ingredients that is infused with Keratin and Silk Proteins. Keratin helps to strengthen hair and protect it from styling and future damage. Silk proteins (an antioxidant) can have water-binding properties to help lock in moisture; and hydrated hair = Improved healthy appearance of your hair. This protein substance (also called sericin) is formed...read more by converting silk, which is the soft, lustrous thread obtained from the cocoon of the silkworm. Providing advanced protection this nourishing treatment penetrates deeply and quickly to help restore moisture which can help protect hair against styling damage. Product has a softening and revitalizing effect on my hair. Noticeably improved hydration which makes hair appear healthier and feel smoother. I typically use a mask once a week. To use, Shampoo and condition as you usually do. Then towel dry hair, while still in the shower, so the treatment can really penetrate your strands, while gently massaging into scalp. -Don't forget to add extra to the ends of your hair. Comb through to detangle, then put hair up in a bun with an elastic, and leave in for 15 minutes. -This will give your hair a deeper conditioning treatment. Rinse with cold water to help lock in moisture and add shine. Using cold water closes the hair follicle to lessen drying time. If you wanted to, you could even leave treatment in hair overnight and rinse in the morning.

Disappointing after the shampoo and conditioner

Basically, the jury is still out. First, I have fine-textured, but rather voluminous, medium-long length, (mostly straight with a slight bit of wave) color treated hair. I received a single-use sample of the shampoo, conditioner, and mask to try: I decided to try the shampoo and conditioner during one "shampoo", and the mask after using a simple "clarifiy-ing" shampoo at another time, so tha...read moret I could better evaluate the products. I figured I would most likely use the shampoo and conditioner at the same time and could better evaluate how they worked together, how any scent/fragrance worked together etc. Incidentally, I loved the shampoo and conditioner. I waited a few days after trying the shampoo/conditioner, before trying the mask, and I used it after a basic clarify-ing shampoo. I focused the product on the ends and worked it up toward the scalp (on damp hair as directed) and left it on for about 15 minutes (directions say 5-10 minutes. It left my hair soft and manageable, without being heavy. The fragrance is much lighter than it's shampoo/conditioner counterparts. However, I don't think it performed any better than when I used the shampoo and conditioner. And at that price tag, I can't see myself making this purchase. I would definitely want to sample this 1-2 more times before making the $50 commitment, and even then I'm not sure I would, because I use another product that works just as well, if not better, for 1/5th the price. That's the reason I knocked off 4 stars--It's an OK product at a ridiculous price.
Back
to top