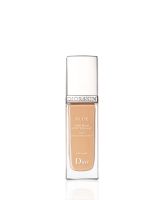 Dior Diorskin Nude Skin-Glowing Makeup SPF 15
As low as
Fragrance + Alcohol = Bad for skin!

Not only does this product contain a strong fragrance, it mostly consists of alcohol, which is very bad for your skin. Both fragrance and alcohol are irritants to the skin, and while not everyone will notice the irritation, what's worse is the free-radical damage being done that cannot be seen by the naked eye. No pun intended.

LOVE! Amazing Product, Just pricey!

I've got large pores and very combination skin.. this works wonders. Makes my skin look flawless and my makeup stays on ALL day. I like very full coverage, so I usually do a layer with a pointed foundation brush, let dry and do it again.