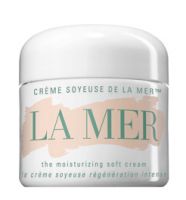 Wow!

I received a sample jar of this and used this for about a week and i'm so impressed!! First of all, the scent is heavenly! It's so calming and soothing even my bf noticed it and complemented on it (which never happens!). he described it as "green tea", very refreshing and herbly. The texture is not too light or heavy, it's great for all year long regardless of the weather. It does not leave the sk...read morein greasy or sticky. I have some texture and enlarged pores and I definitely noticed a difference after using this. My skin looks like it has a filtered over it! the pores are less noticeable and the texture is smoother as well. the brand is pricey but definitely worth the splurge.

i really like this

I got a sample of this and at first I didn't know what it was because I never heard of it. I looked it up and seen the price and my mouth dropped with how expensive it cost. A 1oz jar cost $155.00 and I honestly do not know how people can afford this product line. I gave it a try and I did use it properly . I have dramatically noticed a nice glow radiance on my face and it was nice and smooth feel...read moreing. I really love this product but I cannot afford it. the price is way out of my price range and I feel the price should not be that high.

Soft Cream. Soft Results.

At first glance this product seemed like a good deal, considering it has a lighter texture than the original Creme de La Mer. However, the product did not live up to its expectations. While I did enjoy that this product wasn't as heavily scented, it did not achieve proper hydration levels for my skin. I made a visit to my local La Mer counter to ensure I was not only using the correct amount, but ...read morealso properly applying. I used a 14-day sample and my skin is still tight and dry. I do not recommend this product.
Back
to top