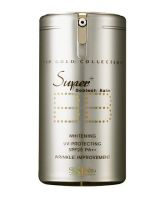 Skin79 VIP Gold Super Plus Beblesh Balm
As low as
Makes my skin look Flawless & Natural

I've been using skin 79 and Missha and they are the BEST beblesh balms every and not to mention the price is fantastic. If you go on their site you can find the perfect one for you skin type, I've bought 2 different ones. I didn't give it a 10 only for the fact it doesn't have other colors for summer or a nice tint, but you can blend it with a nice tinted moisturizer. I'm fair skinned and durin...read moreg winter this particular one is so nourishing and does Wonders for my skin. I look so fresh and literally you can't tell I have anything on. I didn't have time to wash my face before going to my classes at my gym so I figure I'd leave it on. Wow it didn't come off and I never broke out, in fact it seem to act as a barrier protecting my skin from the sweat on my head from my hair products. It's also seems to be water proof, so using a clarisonic brush and good cleanser would be wise of you to use. This is such a fantastic product, but must be catching on because the price has gone up since becoming popular in the US., but hey for about $30 bucks or so, it's worth it for sure. It's an actual BB cream, not like the badwagon products trying to cash in on this, that feel like just water based with no actual cream to it. My asian side of the family have been using these for years and so have I, so we just laugh when people pay ridiculous amounts of the so called New break through BB creams in the US. I use it by itself during the winter when my skin is very fair and in the summer I just mix it with a tinted darker shade, or you could just put a bronzer powder over your face to give that nice summer glow.

Best bb ever!

I love all the Korean and Japanese skincare and makeup products. . Skin79 bb creams are outstanding and acually help your skin. I love all of them. If you haven't tried missha, mizon, ,holika holika, tonymoly, eaude house and skin79? Your missing out. I gave up on us made products and my skin has never looked so pretty!

Skin79 BB

Skin 79 VIP Gold BB cream is absolutely amazing. It makes my skin glow (not with shiny particles). It provides a smooth, even surface without the slightest appearance of "Makeup" like foundations do (even the high-end ones like LaPrairie, Chanel, etc.) I am thrilled at the difference it makes. It's a bonus that it's reasonably priced. I hear there are many counterfeits on the market, so I buy directly from their US web site (which always has specials).