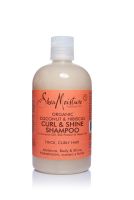 Shea Moisture Coconut & Hibiscus Curl & Shine Shampoo
As low as
Great buy for curly/wavy hair!

I had been on the search for a long time for a shampoo that does not have any nasty things in it like sulfates, parabens, etc. in it and still be effective for my dryish, curly/wavy hair. This has been the only shampoo, with the use of the same line's conditioner, that has thwarted the frizz effectively in my hair. I live in Florida with the monstrous humidity and even though I have a water soft...read moreener, the water ain't all that. I sometimes heat style my hair too, and it tends to be on the drier side. This shampoo has shea butter, organic coconut oil, organic mango seed butter, jojoba oil and is so soothing and moisturizing. It does not lather very much, but that is characteristic of a sulfate-free shampoo. It still lathers enough to get the job done well. It has a wonderful fruity smell, too. My hair feels clean yet not stripped at all. And it seems safe for color-treated hair, too. I am very, very satisfied with my purchase!

Not a huge fan...

This shampoo, does leave your hair soft, and is moisturizing. I like that it is organic, and I feel it would work well for some people. I am about to throw away the very last little bit of this shampoo, because I noticed, as well as my husband, that after using this product for a couple months, our scalps became very itchy. This issue went away after switching to another shampoo. It is always poss...read moreible that the itchiness was not from the shampoo, but discontinuing the use of it cured the itching. It also does not lather up well. I know these days it is popular to use a low lather or no lather at all shampoo, it is supposedly better for your hair so some may like that aspect. I'm sure the coconut smell is due to the natural ingredients, but I don't understand the obsession with coconut scented hair products, and I am not a fan. I will not be repurchasing this.

Loved It!!

This Shampoo was awesome. I recently did the big chop so i was searching on youtube and blog sites and kept hearing about this line. I felt that this product would best fit my needs at this time. I do not regret buying at all the product left my hair soft, manageable, and also helped with defining my true curl pattern. I will buy this product again!!
Back
to top