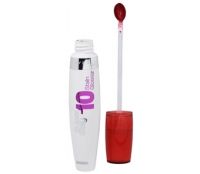 Great drugstore gel gloss/stain

This product has been compared to the ysl stains, which I have not tried but kind of want to. The gloss applies like a gel, and is super shinny. I also find the colors to be very bright. Some more toned down colors would be a great addition to this collection. I don't think the gloss lasts more than an hour or so. The stain does last about 4-5 hours before I feel I need a new coat. Definitely not ...read more10 hours. I don't find them drying, but once the gloss wears off, you can always put another gloss or a balm over the top of the stain if you feel you need it. Or just re-apply the product itself. For the price, I would give it a try. If they truly are similar to the YSL, you can try this first for less than $10 and then decide if you might like to spend a crazy amount on the high end brand.

Pretty, Pigmented Pout!

I grabbed this on Amazon. It was a red cherry color. I know this is kind of weird, but I like wearing lipstain to bed. The color locks in overnight and stays in the morning for flawless, even lips. The cherry color is really intense with 2-3 coats, but 1 thin coat will provide you with a sheer, light tint. It lasts for a while and is definitely something I would buy again.

Not a huge fan

I'm not a huge fan of these. They do not stay for 10 hours. Probably after 3 hours they start to fade and leave kind of a staining effect, but not in a nice way. At the end of the day the color is not completely gone, which may seem like a good thing, but it's not. The remaining color is super hard to get off. I've tried lip removers and I have to rub super hard at my lips and I still don't get all the color off.
Back
to top