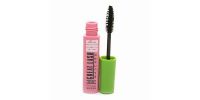 Horrible

Hands down, worst mascara I've ever used. It does less than my mascaras when the bottles are empty. I found it was very clumpy, and didn't give me any length volume or curl. It pretty much ly made my eyelashes a black stuck together mess. It also doesn't have a very good brush. It may be cheap bit you can find products a helluva lot better.

AMAZING

I'll go ahead and state what I don't like about it so we can just jump in to how much I love this mascara! This mascara does smudge a little bit under my eyes but I have oily eyelids so that is also something to consider. But the mascara wand and formula are such an amazing combination! They literally give my eyelashes a false eyelash effect. But if I just apply with a light hand I can easily get a very natural look as well.

Just ok

Cheap, but works ok, doesn't stay all day and makes a mess of ur eye.
Back
to top