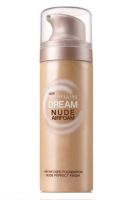 Bad

This makeup is just simply awful! No coverage, looks bad. Do not like!

Disappointment

The foam came out white at first, even though I shook it about 20 times. When i applied this on my face, the foam collapsed onto my face, like soap foam does, leaving a watery film instead of turning into a creamy foundation like other mousse makeup. Coverage was so thin that it didn't conceal anything. I was very disappointed.

Not a good product

I had actually like the Revlon foam makeup and wanted to try this one too. It immediately made my skin look splotchy and wasn't at all hydrating. This product is simply not good in my opinion.