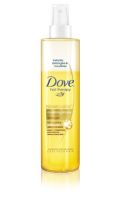 Dove Nourishing Oil Care Detangler
As low as
Slightly Disappointing

I am always a bit hesitant when using a conditioning product that has alcohol in it; after all, is that not the opposite of what I want to accomplish? I had tried a few different Pantene detanglers with just mediocre results and I am obsessed with Dove's new argan oil line, so I thought I would give it a try! The first thing I noticed was the smell; it reminded me a bit of cough syrup. My hair is ...read morelong and wavy, so I focused the detangler on the ends up to just below my ear. Unfortunately, it did not remove the tangles or leave my hair feeling replenished or moisturized. It was not terrible by any means, it just did not seem to do what I thought it would. I actually could see this product better served as a styling aid after hair is already dry. It hss some alcohol which should provide a bit if hold, along with the oil that should provide shine. Make sure you shake the bottle really well when you use it.

Been using for about 2 years.

Light weight, does exactly what it says!!! Yes

I do not give out 10's often....

But this product is amazing! After they discontinued my wonderful dangler I was in search of a new one. I found Not Your Mothers and it was pretty good but when I could not find it again I tried this stuff and WOW am I impressed! This stuff is wonderful! Plus with the added Argan Oil I know I am doing great things for my hair. And what a wonderful price point! i paid just under $4 for mine and I k...read morenow I wll be buying alot more! It is not heavy and greasy with is awesome for my fine hair and I sprayed pretty liberally. The only thing I would say is make sure that you do shake the product before using it to ensure the ingredients blend together (it can be easy to forget on busy days!) I plan to contact Dove soon to praise this product so hopefully they do not discontinue it!
Back
to top