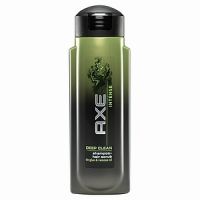 AXE Intense Deep Clean Shampoo + Hair Scrub
As low as
One of the best there is!

One of AXE's first 2 shampoos, it was originally meant for removing hair glue and associated build-up; I immediately knew it would work for oily hair, too. When they redesigned the bottle so it could be stood upside down while in use, they made the "mistake" of adding "for oily hair" to the label. More people have oily hair than dry hair, but the thought grosses some people out; so AXE stopped mak...read moreing it. AXE's Peace shampoo is for normal hair; now they make nothing for the 35% of us who need a good oily-hair shampoo. I hope they see from the demand through re-sellers that they need to bring it back--and soon! There's nothing else currently on the market like--it is very effective without being harsh (after all, it was designed for daily removal of hair glue); so, I will continue to buy it elsewhere until AXE starts making it again!

Love This Stuff - Hard to Find!

There are very few shampoos dedicated for oily hair, but this is one of them. And it works! I'm having a real problem finding the product the past few months, so I hope AXE isn't going to ax it! I highly recommend for those with oily hair.
Back
to top