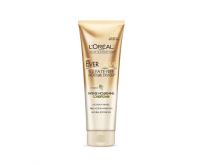 L'Oréal Paris EverCrème Intense Nourishing Conditioner
As low as
Love it. It's the best

All I can say is wow. My hair was dry and dull I used this just once and it changed my hair to soft

The shampoo I've used

I've never had hair as healthy looking and feeling since I've started using this. Even after just one use, you see the results. Granted, this is for dry to extra dry hair, so if this is not your hair type, this may not be the shampoo for you! The scent is, in my opinion very lovely. However, I could definitely see how someone who doesn't like a very perfume-y shampoo might not like this. All in al...read morel, this has left my hair smooth, shiny, soft, and moisturized! I have yet to see any hair re-growth, though which is the only other thing I wish it would do... :)

A truly amazing conditioner!

I color my hair on a regular basis and had a very hard time in the past finding a really good shampoo/conditioner combo that was affordable, free of sulfates, moisturizing, and gave really great results! This conditioner did all that and more! I love it so much. I've never been the type to stick to one product. I usually love to keep trying new things and switching it up but since stumbling upon t...read morehis, I haven't even thought about using anything else! My hair is thin, prone to damage, usually pretty dry, naturally wavy, and very frizzy. I love how amazingly soft and nourished my hair feels almost instantly. No matter how tangled and dry my hair feels before applying the conditioner, my hair becomes instantly free of tangles and feels soft as silk. This doesn't change when I rinse and step out of the shower. I like to let it sit for about 5-10 minutes also to get that extra oomph of moisture. My hair's never been in a better condition! Also, the smell is so yummy I almost want to eat it.
Back
to top