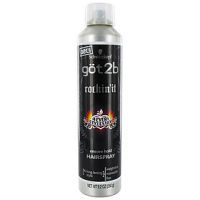 Got2b Rockin' It Hairspray
As low as
Keep Me From Looking Freakish

Most hair sprays do NOTHING for my hair--especially when it is rainy or humid. I have to say that "Got2b Rockin' It" performed better than most for me. I used it after just washing my hair (so it was very prone to frizz) and it started to drizzle (drat!). The scent is delightfully subtle, hard to define, but sort of a fruit aroma. My hair did not stay like it was when I left the house, but it ...read moredid NOT become the total disaster I was fearing. There was some style left after a soggy afternoon and evening. I would definitely buy this again.

Nothing Special.

I have pretty thick, frizz prone hair and this hairspray did not do a great job at controlling my frizz. It did an okay job when it was not humid outside but my hair frizzed up quickly if it was humid. The nozzle had an annoying habit of getting clogged every time I used it. I did love the way the hairspray smelled though.
Back
to top