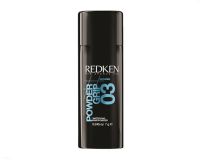 Redken Powder Grip 03 Texturizing Hair Powder
As low as
Don't follow the instructions & you'll LOVE it

I cannot believe I am the first to review this - My stylist showed me how to use this properly, which is not according to the vague instructions. (Note: I have extremely limp, lifeless hair. Normal and slightly oily.) Use this texture powder for added volume at the crown of your head after you have blown dry your clean hair. My recommendations: Immediately after blowout, part your hair in a straig...read moreht line down one side. Then, choose one side of the part line (don't go down the middle) tap the bottle lightly with your index finger , going down along the side of the part - just to the left or right of your scalp line. Next, make a center part, do the same thing, and repeat with a third part. Using your index finger insures that you aren't using too much. You should only need to tap-tap-tap about 4 to 5 times down each part. Don't comb anything out as the bottle instructs. Just mess up the crown of your head with your fingers around the your scalp and then fix with your fingers or comb out the ends. Remember, don't use too much. (You'll want to!) You will notice a different, non-slippery texture on the strands near your scalp, but no funny residue whatsoever. This different texture is what keeps the the roots lifted. As long as I don't use too much at once, I have notice that the product might even help absorb oil that on day 2 after a wash. One tiny, 7 gram bottle lasted me over one year when I used it after each blow drying. As someone with such straight lifeless hair that can never EVER use too much product (1 product was my limit), I have been using a bit of volumizing mousse or spray before drying and then using the Redken Powder grip afterwards and have been very happy!

Ditto Taryn's review

I don't think I can say much more than Taryn except I AGREE! This stuff is amazing and yes, you think you need more because you think this little bit of dust can't do anything but once you feel it in your hair you'll see why just a little works. Thanks to Taryn for such a great tutorial on how to use Powder Grip 3.
Back
to top