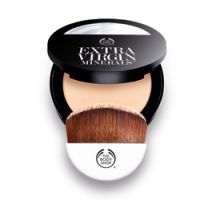 The Body Shop Extra Virgin Minerals Compact Foundation
As low as
Just okay

I tried this product in store but decided against purchasing it. It is not a bad product, but was simply not something I needed. Please keep this in mind when reading my review. I really enjoyed this product. I have found that most of the facial care products by The Body Shop tend to be very yellow or brown in their undertone. This product, however, comes in a range of colors to suit pink toned sk...read morein. The product provided even and light coverage that was buildable. The brush itself is actually usable, which is a nice change from what you normally get with a compact. The powder had little smell. I found, however, that it really settled into the skin and didn't last very long. It would take a lot of product to provide even moderate coverage. I do not have particularly oily skin, so this was surprising to me. Perhaps this would be better used to set a liquid foundation than used on its own.

One of the best!

I've never tried body shop cosmetics before, and I'm an absolute makeup snob but also open-minded to trying new things. I picked this up at the airport in Seattle at a stopover: This foundation is absolutely gorgeous. It's incredibly blendable, has full coverage even though it goes on light and buttery. It feels amazing on my skin and last all day! The word on this product needs to get out to the masses, no joke.

The Body Shop Extra Virgin Minerals Compact Foundation

Makeup artist Lisa Aharon used this on me during the Body Shop roadshow. I hate liquids, so this is a happy medium for me. It comes with a brush, but you could use your fingers or a sponge too. It is weird how after you apply it, it seems more powdery. You need too set it with a translucent powder. It the summer heat it does melt a little, but it would be perfect in the winter. I'll save it till then.