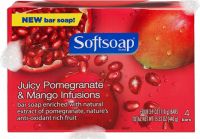 Softsoap Bar Soaps
As low as
Like It!

Smells so good, washes very well. Leave you smelling soft and pretty! Nice

Moisturizing

I really like these bars. I have tried the coconut scrub version. It is really quite moisturizing, but doesn't leave a residue. I was also concerned it would be overly scented, but the scent was very subtle. I just wish it exfoliated a little better.

Will repurchase!

Soft Soap Coconut Scrub Bar is described by its manufacturer as a product that is "Enriched with crushed coconut extract and gentle exfoliates to reveal soft, smooth skin." The small coconut extracts are very visible when looking at the bar of soap (small brown rough specks), yet can hardly be felt once it is lathered on your hands and body. Surprisingly this soap lathers on very well, ver...read morey similar to a body wash, and it leaves the skin very soft and smooth. The scent is very pleasing, it actually does not smell like coconut at all, but rather very floral. Also, the smoothness and scents stays on the body long after coming out of the shower; it lingers for about an hour. I am very pleased with this product simply because of how smooth it left my skin and how great it made my skin smell. I don't think this soap is for anyone looking for a scrub, seeing as it didn't do much scrubbing since the crushed coconut extracts are very tiny. Although, I would recommend this soap to anyone who wants an affordable bar of soap that cleans well, smells great, lathers without any effort, and leaves the skin feeling soft and smooth!
Back
to top