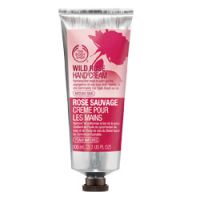 The Body Shop Wild Rose Hand Cream SPF 15
As low as
Loved it! Smells amazing, very light and moisturising...

I truly loved this hand cream... There was actually a specific reason for me getting this cream... My co-worker once came back from her break, and when she passed by me, she left a trace of such a delicate rose bud like scent that I had to run after her and ask her what she was wearing... I was sure that it was some sort of body oil, or an EDT... So she took this out of her purse and let me t...read morery it... And naturally, the day after I got it myself, because I just couldn't resist... This cream is very light in consistency, it is not like glycerine or petroleum jelly based cream. It feels very silky, almost milky and absorbs almost immediately after you put it on... It does leave your hands a bit shiny at first, but a few minutes later the shine goes away, and your hands are left feeling smooth, silky and moisturised... And no matter how much I like the effectiveness of this cream, still, what I love the most about it is the way it smells... The packaging is also very cute; I love the combination of rose/pink with silver... And I noticed one reviewer commenting about the cap being hard to screw back on after you've applied the cream. Personally, I didn't find any problems with the cap at all; plus, I always close it before actually creaming my hands. I just put the cream on the outside of my left palm, close the tube, then dab some of the cream on the outside of my right palm and apply it to both of my hands... I've always done it that way, so I guess it's just a matter of habit... So no, no problems at all for me, loved everything about this cream. I do wish it was just a bit less expensive, and that is the only reason why I'm giving it 9 stars, but I would definitely recommend this hand cream to all... ;)

Great!

This smells like true roses! It is super moisturizing, but without being too heavy or greasy. I find the cap a bit difficult to put on, especially with cream on my hands, so I wish they would change the packaging a bit. Otherwise, the product is very lovely and works well. It is very floral, so not the best for the office as those around you might find it too strong.
Back
to top