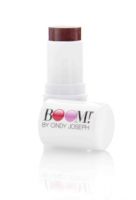 BOOM! Color

Love it! Clear shimmer keeps skin dewy and fresh-looking without seeming made up. Perfect for aging skin because it's not a powder and won't flake off. I put it on the apples of my cheeks and at the outer corner of my eyes to give them some depth, but I don't need much at all.

BOOM STICK COLOR

I love the product! I used it exactly as shown in the video and the color is so natural The cheeks were too red at first (like Cindy mentioned in the video) but lightened to a beautiful natural shade, The lip color looks great on me and that is saying a lot. It is almost impossible for me to find a lipstick (or blush for that matter) that looks natural on me. I usually don't wear make-up for ...read morethat reason. I have spent a small fortune on cosmetics - and I rarely take the price into consideration. This is a great product. One thing -- I have good skin and I'm thinking this product works on best on good, clear skin. If you have skin problems, like discolorations or break-outs, this may not be the product for you. You may need something heavier that conceals more. And yes, you do have to re-apply - it is not a stain, but women our age do not want stains. Its very easy to use. I am only reviewing the color stick.

Been Using for Months - it's great

I have been using Boom products for months and I find them to be fabulous. I've never ever had compliments on my skin but in the first 3 months of using these I received several comments. The color stick is anything but cheap. Yes you have to reapply but it is a gloss, not a dry lip color. You can buy products at half the price but they all have unhealthy chemicals in them. This product has n...read moreone of that. Sometimes I use mascara and a little eyeshadow - Cindy never says not to do that - just that she prefers not to most of the time - but even she admits that sometimes she adds a little extra. But for the most part my skin has never looked or felt so amazing as it does since using this. It's not overly expensive and it lasts for a ridiculously long time. Stop bashing the product just to bash - I've used them all and they are fantastic.
Back
to top