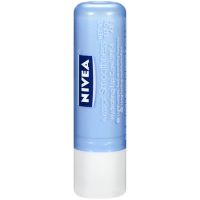 Just bought it!

I just bought this one and I love it. It has a subtle sweet, pleasant taste. Lasts a while, but I did have to apply several times throughout the day. I live in a very dry place so having some sort of lip moisturizer is a must, specially during the winter months. I have been using it for a couple of days now and my lips are not dry, but soft and smooth. It is also super affordable, since I bought i...read moret at Walmart for only three dollars. It also came with a coupon with one dollar off the next one I buy. I love it, and I think it is far superior in quality than other products for dry or chapped lips. I will definitely want to buy again and try other variations of this product, such as the honey lips one. This is definitely a favorite of mine now, and I regret not buying it sooner.

Great for a Cheap Lip Bam

I got this on sale for a dollar so picked up three. It is very smooth and hydrating, leaves a veil of moisture on lips without being waxy or overly greasy or shiny. I also like the added spf. A hint of vanilla scent for aromatherapy.

Great SPF

Within my knowledge, Nivea has a pretty good reputation, with outstanding body lotions, absolutely amazing lip butters, and good skin care products. Compared to that, this Kiss of Smoothness Hydrating Lip Care with SPF 10 is decent. There were a lot of nice things about this lip balm. I bought this balm when I saw the SPF 10 on the label because it was a blazing hot and sunny summer, and our lips ...read moreneed SPF as much as our face or body does. So far, this SPF has been just perfect. Also, the packaging is neat and simple, no frills or fluff. The light blue color is cute and the twist up applicator is quick and clean, as opposed to the Nivea Lip Butters where you have to stick your fingers into the product. Sometimes I do like more flashy, creative packaging, but for day to day, "apply and then throw in the purse" use, this is good. Then, the lip balm was very smooth and silky going on, and the clear color made this perfect to wear under glosses, stains, or lipstick for both color and sun protection. Finally, the price tag was very reasonable, considering I got two for about $4. However, this lip balm was not very moisturizing. At all. Despite going on smooth and silky, the moisture did not last long at all. About five minutes at most, and after that my lips actually start to feel very chapped and uncomfortable. So you either have to apply this every few minutes, or just sit there with chapped, uncomfortable-feeling lips. Also, I am really not a fan of the scent. While I can understand how many people would find the scent simple, subtle, and floral, it honestly smells like nothing else but outdated perfume to me. It smells like old lady, in other words. I do not find that the least bit appealing. Finally, do not leave this in the car if it's hotter than about 78 degrees Farenheit outside or you will come back to a hot (literally) mess. The same day I bought this Nivea lip balm, I left it in the car for about ten to fifteen minutes in 85-degree weather while I was in the grocery store. When I came back and opened the lip balm to put it on, it was pretty close to melted. It's like when a stick of butter starts to melt around the edges about five seconds in the microwaving process. Not cool. It's a good thing I had leather seats and a refrigerator at home to cool this lip balm down in to (try) to restore it's former cylindrical shape. Overall, not a terrible balm, but there are definitely better, non-old-lady-smelling balms out there that offer much better moisture.
Back
to top