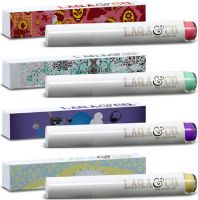 Laqa & Co Nail Polish Pen
As low as
Good for a polish pen

I'm not crazy about polish pens bc they always seen to be more trouble than they're worth. I saw the Laqa & Co pen in squid ink though and had to have it. I love the color and it has a great shine. Staying power is average. It's very thin so it takes quite a few coats and tends to start off streaky, but since it's in a pen it has to be thinner. I haven't had it get clogged yet so thats a definite plus. Overall, I have to say it's the best polish pen I've tried.

The best!

I'm so happy to see nail polish pens are coming back in style! I found this by complete accident on eBeauty, the Canadian website, when I was browsing through their huge collection of Nail Polish. I ended up purchasing it in WTF, the perfect nude colour that will look seriously great on any skin tone. It's perfect to use when doing French manicures if you're looking for a high gloss finish. I love...read more how I don't have to keep dipping the brush into the bottle, all you have to do is click the pen to get more colour to come out. Soo convenient and easy to throw in luggage when traveling without worrying about it shattering! This is a definite recommend!
Back
to top