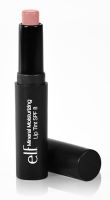 Not really good....

I like the cooling sensation of this and the color was okay but I didn't like how it doesn't apply evenly. The color would have some light and dark spots on your lips. It has a little bit of shimmer in it. If you're expecting a matte color you won't get that.

Surprised

I am surprised by its low rating. I have almost all the shades and my favorite, by far, is Rose. It is the most moisturizing out of the bunch and very pigmented. There's no glitter or sparkles in it, just a tint of color. Some of the other colors have little chunks of glitter or a frosty finish which I don't really like. I have at least 2 or 3 backups of Rose because I use this product every time I want a pop of color. It tastes sweet too!

ok

This tinted moisturizer is ok, but I wouldn't buy it again. First of all the package is really tiny, there's not much product there at all. I know it's inexpensive, but even for 3$ it's too little. Another thing I didn't like was the texture, looking at pictures and descriptions I expected this to be more sheer and matte (as in no shimmer or glitter), but this product turned out to be rather thick...read more and it does have some shimmer in it. Not terrible, but not something I'll consider buying again.
Back
to top