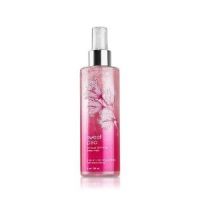 Bath & Body Works« Signature Collection Sensual Shimmer Body Mist Sweet Pea
As low as
I have this in DARK KISS (not Sweet Pea)

It smells fabulous. My boyfriend suggested that I buy it, and it's a winner :) Every time I wear it I get compliments! It's just the right mix of light, floral, fruity, and musky. The staying power is surprisingly good for a body mist, and you get a good amount of product for the price, especially when it's on sale. The packaging is cute too, and the swirling shimmery liquid looks cool in the bott...read morele. It is VERY glittery, which might not be desirable for some, but I don't mind. I would absolutely repurchase this.

Bath and Body Works Shimmer Spray Sweat Pea

I have had (multiple purchases) this for over a year and I LOVE IT!!! It smells WONDERFUL, and because it's a body spray, it's not too overpowering. I live in Arizona...so it's V E R Y HOT, and therefore I use it not only as a perfume but to cool me off during the day. It's super refreshing and I don't even buy perfume anymore because this takes it's place-saving me a lot of money in the process!...read more! Because it's so much less costly than perfume, I don't feel guilty applying it (mostly to cool me down..not because I need "more fragrance") multiple times during the day! As LipglossandSpanex said, it looks very cool in the container because of the "shimmer"...but the "glitter" in it isn't big like you would see in a glitter nailpolish, it is very fine, and it adds just the right amount of sparkle to my skin! I LOVE THAT!!! It's like jewelry for my skin!!! I also bought some travel-sized ones so I can keep one in my carry-on luggage and one in my purse! VERY HANDY! Bed & Body Works almost always has a "buy **, get ** free sale, and the travel-sized ones (3 oz) are 3 for $10! You can almost ALWAYS find a 20% off coupon, and a lot of times, if you don't have a 20% off coupon...if you are really nice...the sales associate will try and find you one behind the counter (that's on TOP of the buy ** get ** !!!). I told the sales associate that I use them not only as a body spray but throughout the day to keep cool...and she gave me THE BEST TIP...KEEP ONE IN THE FRIDGE!!!!! OMG! If you live in a hot region, you realize what a FABULOUS idea this is!!! I am SOOO excited about that! I have bought five yesterday and have a permanent spot in the fridge for one now!!! Even my daughter...who is not very forthcoming with compliments...told me how great iI smell!! I LOVE THIS STUFF!!! And the "SHIMMER" makes it SO MUCH FUN!!!!!
Back
to top