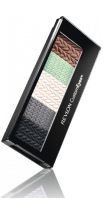 Disappointed in the Pigmentation

Hardly an eye shadow compact or palette is on the shelves or Internet which I don't try. Revlon's "Custom Eyes Shadow and Liner" looked so promising--the shades were lovely, beautifully matched, and I loved the textures etched into them (they resemble crocheted patterns, etc.). I was greatly disappointed in the pigmentation, however. The liner is deep; the other hues needed repeat application f...read moreor an acceptable amount of color (and I never go overboard with shadows, even at night). This could have been a great product, but I was disappointed.

Customeyes shadow

This came out in the early spring before the hype with orange and blue shadows for summer, such as Too Faced Summer Eye Palette. These colors are comparable to the more expensive brand. They are highly pigmented, don't need a primer, and are a good color scheme. I have hazel colored eyes, and the purple is particularly flattering. I put the orange on my lid and the purple in the crease. I also add a bit of the blue to the crease. You willl be very satisfied with this palette.

Great Product

I got this on clearance at a local Target and figured it was worth a shot. I actually didn't realize that one of the colors was meant to be a liner, and ended up using it on my crease. These colors are fairly well pigmented, though they go on softer than expected - they could use a bit more pigmentation. They are easily blendable and compliment each other well. I would buy this product again, but I don't think I would pay full price for it.
Back
to top