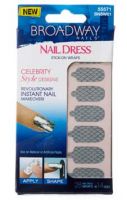 Good for price

The major difference between these and Sally Hansens is quality. These are actual stickers whereas SH's are polish. These are removed by peeling them off which can strip your nails but it's not too bad. SH's last longer and come off with regular nail-polish remover. Because they're stickers, they must cover nail just right otherwise the sticker edge will snag and curl up when your nail brushes ac...read moreross something. For the $5-6 savings they're worth a try but a more professional salon look, SH might be a better deal.

so so

Very cute & simple to apply, but they even after applying a top coat as recommended they began to wear away by day two.

just put these on

they were really simple to apply but they don't seem like they'll stick very long. we'll see. but i love the patterns!
Back
to top